The Weekend Edition is my opportunity to highlight everything awesome, nerdy and cool that has crossed my digital path in the last week.
---
Tea, with Alan Rickman.
The first YouTube comment asks, "Can I get pregnant from this?". It's… it's a real concern, I think.
---
Alright, let's play a little word association game. I say cat, you say dog. I say glass, you say wine. I say adorable lake-front cabin, and you say…
Finland! That's right!
This two-floor cabin by Robin Falck has a 96-square-foot footprint, cost $10,500 to build, and neatly evaded local planning legislation. Via Design Milk.
---
Drunk book reviews? How the hell did someone think of this idea before I did? Well, no matter — this is far cuter than seeing me get snarky and bitter over a glass of a good shiraz.
Tip number one: when you're drinking, make sure you put it in a fancy cup. Because that is how you know that you're a fancy bitch.
And don't miss Stephen's book: I've heard nothing but good things, and it's on my list!
Thanks, Kari!
---
Don't worry, everyone: all disease and illness has been cured at last. Thanks to Darren Cullen (via Boing Boing), you can now buy this universal panacea:
---
This must never be forgotten.
---
And finally, a reminder of the importance of proper social-media etiquette, courtesy of xkcd.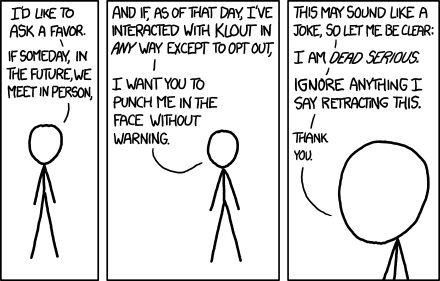 ---
That's it for another week. If I missed anything awesome, shout out in the comments!